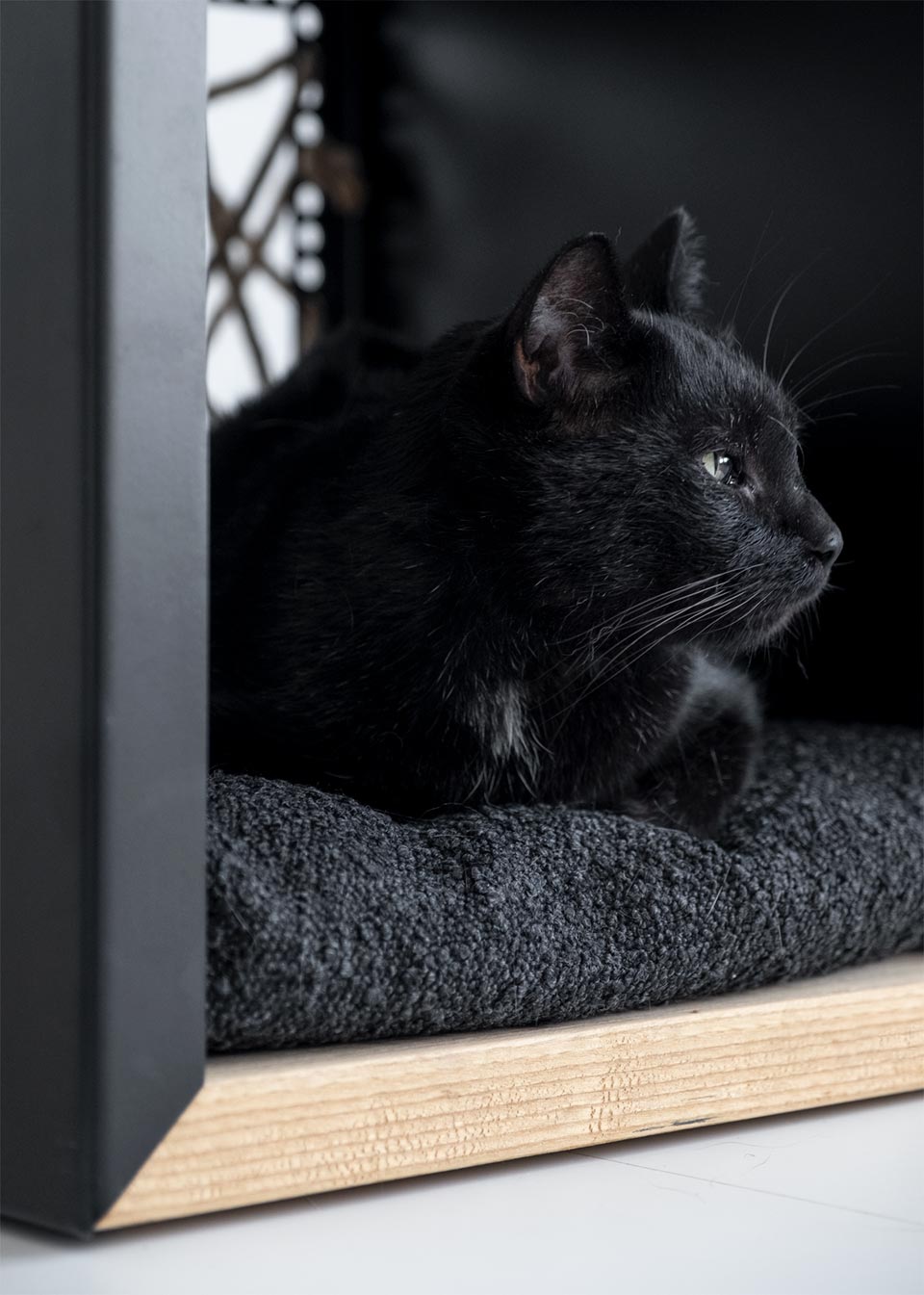 INDOOR KENNELS AND SOFT WASHABLE CUSHIONS, DESIGNED, FOR DOGS, CATS AND DEMANDING HUMANS
The Donarturo collection of indoor kennels and cushions is designed and made entirely in Italy, pursuing an idea of craftsmanship and sartorial quality.

Dog cushions are removable and washable, with a refined design and high-performance materials.

Indoor cat kennels are conceived as real furnishing accessories, but never neglect functionality and comfort.
PASSWORD: SHARING. THE NEW FRONTIER OF PET DESIGN AND PET FURNITURE
The Donarturo collection of indoor kennels and cushions for dogs and cats is constantly evolving and was created to establish a connection point between our way of living the domestic space and that of our animals.
The Cuba design kennel for cats, for example, is emblematic in this sense: it is at the same time kennel, bedside table, pouf and coffee table.

Design kennels and soft cushions for your pet: this is our concept of comfort.
If you love design and animals, you probably live with a cat or dog, and you know how difficult it is sometimes to offer them a dedicated place to rest that also matches the style of your living room.

With our collection of kennels and cushions we try to put you in the position of no longer having to choose between comfort and design , between style and functionality.
For this reason, Donarturo dog cushions and indoor kennels for cats are conceived, designed and manufactured entirely in Italy, starting from an original design, high quality materials and artisanal production processes.

In fact , we consider every detail important and we never neglect the needs of demanding pet mates like us, who live with four cats and two dogs.
Donarturo cushions for dogs and cats are made with materials with very high technical and aesthetic qualities, which make them easy to clean and elegant at the same time. Additionally, the dog pillows are filled with durable materials that make them perfect for long sleep sessions and offer great support for even the largest breed dogs.
They are easy to clean thanks to the water-repellent, stain-resistant and machine washable fabrics. Furthermore, they do not retain the hair and for quick cleaning it will be enough to vacuum them up.


Even the design indoor beds for cats are made with the same quality standard as the cushions and the entire Donarturo collection. The choice of materials, the sophisticated design and the attention to detail make Donarturo kennels a real piece of furniture: perfect to be placed in every corner of your home, integrating with your style thanks to the essential design.
Choosing a Donarturo dog cushion or indoor kennel does not only mean investing in the health and well-being of your pet, but also giving yourself a unique object with a strong personality.